home
3rd March 2009 - Masons, Utah, Arizona and Red Flag



As usual I'll start off with the non-aviation photos.


I was given the opportunity to shoot inside a Masonic Temple in Cheyenne, WY which proved to be very interesting.



Then I needed to drive to Nevada and on the way I stopped multiple times to do some night shooting - all that happened to be in Utah.


Last month I traveled to Arizona to meet up with some friends from the UK and to do a couple of days shooting.

These are not the full set of photos, but just what I have processed so far.


Avra Valley (ok Marana Regional) - I added to the photos from the previous visits, including the Beech Starships that are stored here plus some other airframes on the field that I haven't had the chance to snap before.



A few days shooting at Davis-Monthan AFB saw the Dutch AF F-16s visiting from Springfield with the OH ANG F-16s, plus other interesting movements.


Close by we did some low-light shooting at some of the scrap yards:


Allied Aircraft.



United Aeronautical Corp.



Western International.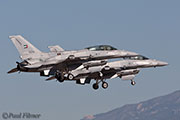 Around the corner and I spent a pleasant afternoon at Tucson International - strangely I'd never shot any movements here before.



Last up for now is hefty amount of photos from Red Flag 09-02 from Nellis AFB. RAF Harriers and Edwards F-16s stealing the show this time around.


thanks for looking - paul