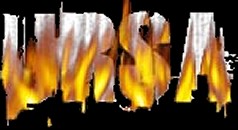 Jodie Cox - guitar / vox

Wayne Pennel - guitar

Paul Arnold - bass

Kyham Allami - drums
One of the great up and coming bands on the London scene at the moment. With the demise of The Monsoon Bassoon and Geiger Counter, they have been suddenly thrust into the limelight as one of the best cutting-edge guitar based bands in London. They improve with every performance, and their new material is nothing short of fantastic.
News - 11/4 another great band ends before their true potential is realised. After much speculation they call it quits.

Khyam plays with Art Of Burning Water and Jodie plays with Bullet Union and Defeat The Young.

Live Dates, Photos & Reviews
2000 2001 2003