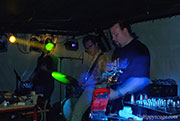 The Rothko base is currently Mark Beazley. The "three bass" period with Crawford Blair & Jon Meade has come to it's natural end - this was at the point where they were becoming well known in the music industry, and unfortunately many people have now missed out on this period. (Mogwai will breathe a sign of relief I'm sure!) They will be looking to expand the horizons of the music they play - work has already been completed with Delicate AWOL with more in the pipeline. Watch this space for further developments, as I'm sure we are in for a good ride.
News - 12 Aug 03 - I've decided not to continue to update the specific pages with the showcased bands. This is for two reasons... firstly it is extremely time consuming... and secondly all the info you require can be found on the relevant artist websites.
When I started these pages many many years ago, most of the bands either had no website, or they were never updated. Nowdays every band has a website so it seems silly to carry on and duplicate the info they already provide. I will of course continue to update their live dates in the gig guide section.

Live Dates, Reviews and Photos
1997/98 1999 2000 2001 2002 2003
Discography and reviews
"rather magical" - the NME
"aching, slow moving instrumentals like 'Seventyseven A' and 'Undone' are completely free of cynicism, each uncut distillations of feelings too unwieldy for words. Purity is the key word here." - the Melody maker
"intentionally or not, Rothko have been terrifying critics and small children alike by playing the bass guitar as if it's the last instrument left on earth" - the London Evening Standard
"triple bass rupture" - Wire Magazine
"live, they have a thrilling, propulsive power with enormous emotional impact." - The Times, Metro Magazine
"..are so far arse-bongingly out 'there' they make Tortoise look like Level 42." - the NME
"..strange, wonderful, and quite unique...if they keep ignoring the rules and follow their hearts, they will grow into one of the most intriguing bands around." - Simon Raymonde