London Heathrow, UK (EGLL) - 1979
Subscribe to receive updates via: e-mail list | Facebook | Instragram | Twitter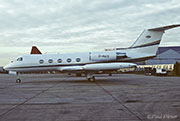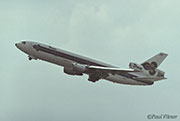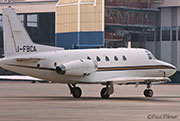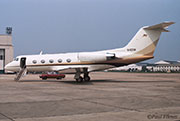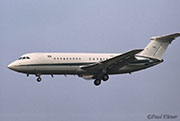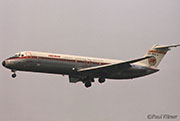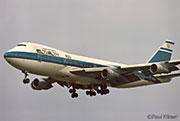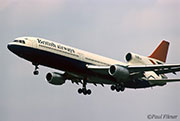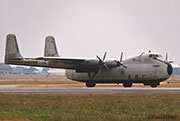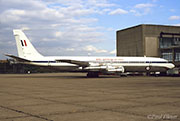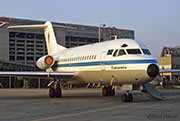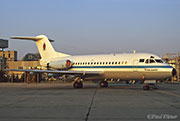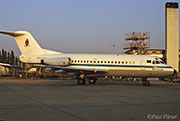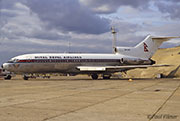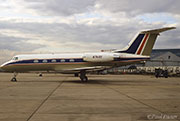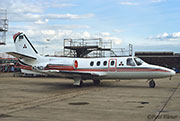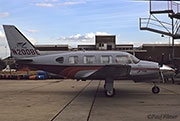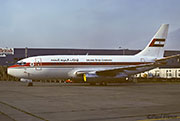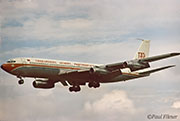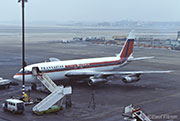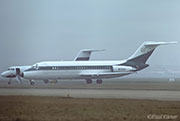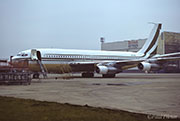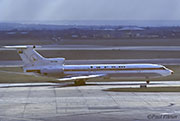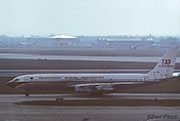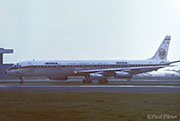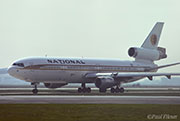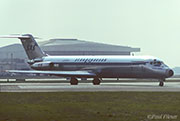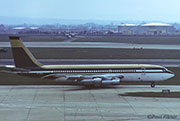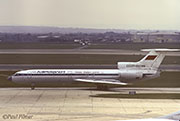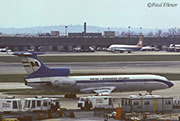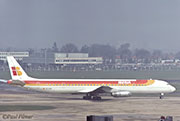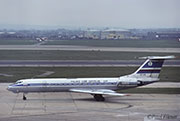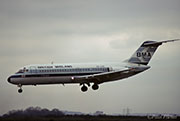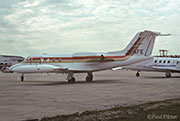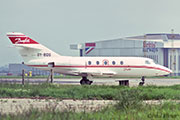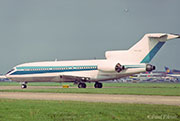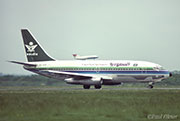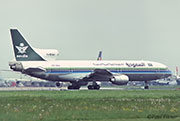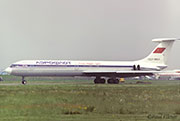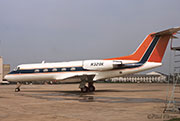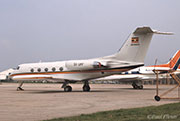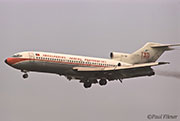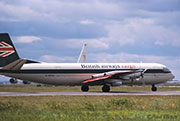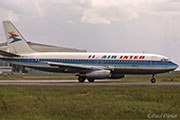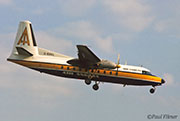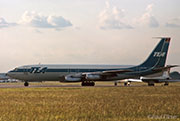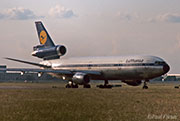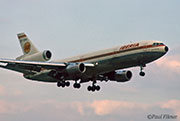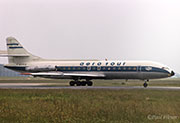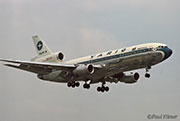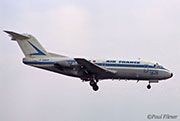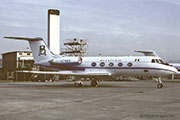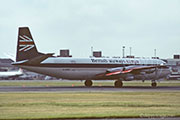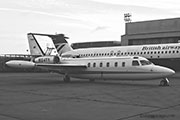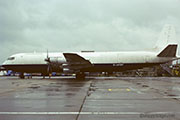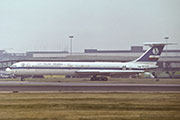 ---
---
During 1979 I took my first full-time job, straight out of school at 16 years old, working for British Airways at Heathrow Airport. With this I suddenly gained access to the maintenance areas at the Hatton Cross complex, where I would ride by bicycle around to the old BEA maintenance area where there were often exotic biz-jets.
There are a lot of photos this time around so I've numbered each section to corespond withthe appropriate photo.
Photo Notes:
1. In these days biz-jets were very common at Heathrow, with Fields and British Airways Executive Aircraft Services both vying for business, and this was before these types of aircraft were actively encouraged to go to Northolt or Luton.
G-HADI Gulfstream II, an early tip-tanked machine, was owned by Madi Al Tajir who owned the Highland Spring bottled water company alongside the Sheraton Park Tower Hotel in Knightsbridge. This would have been one of the first G2s on the UK register and is still current as N840RG.
2. Thai DC-10-30 HS-TGE last flew with Northwest Airlines as N232NW. She ended up at Pinal Airpark, like many others in 2006, and was most likely scrapped that same year.
3. Sabreliner I-FBCA owned by Fabocart, seen at the old Bealine base. This was sold to Mexico as XA-SVG and may well still be current.
4. Gulfstream II N401M has been converted to an SP variant and is still flying as N889JC.
5. BAC1-11-401K HB-NB2 was owned by the National Commercial Bank of Saudi Arabia and was a regular visitor. Here, surprisingly, I caught her in the air!
The aircraft was withdrawn from use in 1997 and was then sold to Kabo Air as 5N-HHH but she never left Southend and ended up being used as the airport fire trainer with the fake registration G-FIRE. See her at Southend.
6. Iberia DC-9-32, EC-BQZ, was withdrawn from use as late as 2000, was then converted into a theatre by the Spanish Airports and Air Navigation (AENA) and still sits between Terminal 1 and 2 at Madrid Airport today. The dirty behind on the DC-9 was typical of the day, with those smokey rear-mounted engines.
7. El Al Boeing 747-200B 4X-AXB is seen before the days when tanks would patrol the perimeter road whenever El Al had movements. 4X-AXB would be scrapped in Tel Aviv in 2001.
8. British Airways Tristar 1 N323EA was leased from Eastern Airlines. She last served with Air Atlanta as TF-ABP and was later stored at Bruntingthorpe in 1996. She was taken apart in 2002 and the fuselage was taken to Pinewood Studios for use in a film in March 2002 and one month later was scrapped.
9. Although Air Bridge Carriers (ABC) operated a few Armstrong Whitworth AW-650 Argosy aircraft in the late-'70s, they didn't venture south from their Castle Donington base that often. Here G-APRL is seen lining up on 28R - also notice I didn't step down the shutter speed enough; I was probably too excited!
This aircraft was one of a batch that was delivered as a civilian aircraft and never actually served with the military. It was produced for Riddle Airlines in the USA, later serving with Zantop and Universal Airlines. This aircraft is currently displayed at the Midland Air Museum in Coventry in the final Elan colours that she wore while with ABC.
10. Boeing 707-300 A20-624 belonging to the Royal Australian Air Force wasn't such a regular visitor to Heathrow. This was the last 707 in service with the RAAF, being retired in June 2008 and was also the first to go into service in 1979. I'm not sure if British Airways had something to do with the conversion looking at the date, but it would seem strange to fly the aircraft from Australia, where she flew previously with QANTAS, to the UK for conversion, but stranger things have happened. This aircraft was sold to Omega as N624RH, still keeping part of its RAAF serial in the process.
11-13. In early 1979 Uganda and Tanzania were at war, and the VIP aircraft from both countries were present on the same ramp. Presumably they were here for talks, but I can find no evidence of that. The Tanzanian Government F-28-3000, 5H-CCM, was an extremely unusual sight here. It would often be seen in the Netherlands, where it would return for heavy maintenance, and was last seen as recently as 2010 in Woensdrecht, so is presumably still active.
14 and 44. The Ugandan Government Gulfstream IITT, 5X-UPF, was quite a regular visitor to our shores and could often be seen at Stansted. This airframe was still active as late as 2007 as N930LS before being de-registered. It was last noted stored at Mojave, CA. The TT type suffix was because tip-tanked biz jets were still an uncommon thing to see.
Whether Idi Amin himself visited on this jet, or perhaps another high ranking official, is unknown, but I bet this airframe could tell a few stories. Note the cut-off nose - this often happened either due to the inability to actually see exactly what was going to appear in the frame through my old Zenith camera, or simply a poorly mounted slide!
15. Royal Nepal Airlines' Boeing 727-1FB 9N-ABD parked outside the TBJ base at British Airways. I'm not sure if this was a state or a maintenance visit, but it was certainly an unusual sight to see. The aircraft was named Yeti and was scrapped in Hamburg during October 1993.
16. Gulfstream II N7602 was owned at the time by Union Oil. It was later converted to a Gulfstream IIB and is currently flying as N200AQ.
17. Citation 500 HZ-NCI (the NCI standing for National Chemical Industries), was often seen around Heathrow, but I'm told that it often arrived and departed empty. Although the owner lived in Croydon, it never went to Gatwick. This aircraft survives today as F-GKID.
18. N200BE is a PA-31 Navajo anomaly. It had a Monro Panther Turbo conversion, and although some details have become blurred over time, this airframe is still thought to be active as N7XB.
19. A6-AAA Boeing 737-200 belonging to the UAE Government was however a regular visitor. I'm told the English captain used to play his guitar while the cabin crew girls cleaned the cabin after each flight! This airframe is still active in Bolivia as CP-2561 with Aerosur.
20. An unknown TAP Boeing 707-300 landing on 09L.
21. 9G-ACN was a Boeing 707-100 owned by Transasian and leased to Sudan Airways via Air Malta. This aircraft has had a complicated history of leases but ended up at AMARG at Davis Monthan AFB, AZ, as N62TA and was later sold and moved to the National Aircraft scrapyard in 2001, where presumably she was scrapped.
22. Another large Saudi bizjet, but this time on the American register as N112AK and registered to American Capital Aviation. This DC-9-15 was owned by Adnan Khashoggi, and it ended its days at Miami International as N915MJ where it was scrapped in 2003.
23. Boeing 707-100 VR-CAN became a regular visitor for a couple of months in 1979 and, like many others, ended her days in Pinal Airpark, AZ, before being broken-up. Now this aircraft was reportedly used by the Shah of Iran after he fled into exile on 16 January 1979 to Egypt. In the photo you can see the internal steps have been deployed and the door is left wide open with no sign of security. This may or may not be relevant to the events described below.
It's hard to narrow down the exact date I took this photo, but it was close to 21 February 1979. Tony Hamiltion-Hunt remembers a strange event concerning this aircraft around this time-frame. Tony worked for British Airways Executive Aircraft Services and, in those days, they didn't work night shifts. Tony takes up the story. "First thing in the morning the phone was ringing like mad and everyone wanted to know why VR-CAN had arrived during the night from Moscow and then parked at the old Bealine base.
"Now aircraft were not allowed to taxi to the base under their own power, so maybe they shut the engines down and coasted in, or maybe they just didn't care. No-one knew where or who the passengers were or how they got out of the base without BAA security of BA engineering investigating.
"All sorts of rumours were flying that the FBI or the CIA were involved, but no-one ever got to the bottom of the story."
Digging deeper, during this time the Shah owned an estate in Godalming down the road in Surrey, and he had already made it clear that he would like to spend his exile at his estate, even if it meant that he had to be confined within its walls. The UK government at the time certainly discouraged him to continue with this plan during February 1979, making it clear that they feared all kinds of reprisals.
Looking at the way this aircraft was left in this photo, all these events could well be tied up, but we will probably never know.
The aircraft was later seen at Meachan Field, Texas the same month.
24. Tarom Tu-154B-1 YR-TPH was written-off a year after this photo was taken when it crashed into the sea on approach to Nouadhibou in Mauritania. On a missed approach on 7 August 1980, it hit the water 300 metres short of the runway and amazingly there was only a single fatality from the 168 people on board.
25. TAP Boeing 707-300 started out life as a BCAL machine registered G-AVKA before being sold to TAP as CS-TBH. It then went to the USA and all around Africa as a freighter and was last noted with Kinshasa Airways as 9Q-CKS when it was then stored at Sharjah for a long period of time. It was then flown to Luansa in Angola and its fate is currently unknown.
26. Iberia DC-8-63 EC-BMY went to Aviaco later and ended up in the USA as a freighter, this time with Rich International as N4935C, before being scrapped at Opa Locka, FL, during 2002/2003.
27. National Airlines DC-10s were daily visitors. We always commented on how National DC-10s would take up every inch of the runway on departure. Looking back, maybe this was their early adoption of fuel saving measures by using minimum take-off power? N81NA, a DC-10-30, was a nomad and worked with Pan Am and other airlines before ending her days with Ghana Airways as 9G-AND. Ghana Airways was banned and grounded in the USA during 2004 and this airframe was ferried to Pinal Airpark, AZ the same year, before being broken up and scrapped in 2007.
28. SAS DC-9-41 LN-RLP is seen here in an experimental silver colour scheme as a weight saving measure. It was delivered new to SAS in February 1979 so was less than two months old in this photo. It was painted into the more familiar white colours ion 1982, and, in 1986, was sold to leasing company Air 41 and immediately leased back to SAS who continued to use it until 2001. When the aircraft was returned to Air 41 registration N78XS was allocated ahead of being flown to Roswell, NM, for storage, eventually being scrapped in 2006.
29. Boeing 720-047B HZ-KA4 was owned by Sheikh Kamal Adham and was a regular visitor along with the rest of his fleet, KA1 to KA5. It was last noted as P4-NJR grounded in Beriut and its fate is unknown.
30. Aeroflot Tu-154B-1 CCCP-85285 was last operated by Donavia as RA-85285 and was eventually scrapped at Chisinau Airport, Moldova, in July 2006.
31. Malev TU-154B HA-LCF was written-off when it broke in two on touchdown in Prague on 21 October 1981 on a flight from Schiphol. While performing a PAR approach the aircraft was high on the glideslope and, as the aircraft crossed the threshold at 80 metres height, instead of the normal 20 metres, the crew elected to reduce engine thrust and deploy the spoilers, which in this aircraft is not allowed above five metres altitude. The aircraft came to a halt and drove into the runway with an estimated 4G acceleration force where it broke into two. There were 81 people on-board and there were no fatalities. The nose section should still be current in the Hungarian Transport Museum, and a section of the fuselage was last noted being used as a garden shed in the village of Hostoun near Prague in September 2008.
32. Iberia DC-8-63 EC-BSE also saw service later with Aviaco and then Airborne Express as N820AX. She was scrapped at Lake Charles Chennault Airpark, LA, in 2007.
33. LOT Polish Airlines Tu-134A SP-LHB spent its entire career in Poland and is currently displayed, unmarked and in poor condition, at the museum in Krakow.
34. An unkown KLM DC-8 rolling out on 09L.
35. BMA DC-9-14 OH-LYB is seen here landing on 09L. This was the sixth DC-9 off the production line and started life with Air Canada as CF-TLC. Sold to Finnair in 1977, she was leased to BMA from 1977 to 1979, eventually being sold to BMA and re-registered as G-BMAH. She later went to Intercontinental Colombia as HK-4056X and was scrapped in Bogota in September 2003.
36. Citation OY-ASR's last known identity was N501DG but was sold to Venezuela and its current status is unknown.
37. Arab Wings were a regular visitors with Learjets and Sabreliners. Here Learjet 35A JY-AFE is seen at the old BEA maintenance base in June 1979. It is currently flying in Sweden as a target towing aircraft and registered SE-DHP.
38. If you glanced at Danfoss Falcon 20C OY-BDS, you would swear it was from Switzerland, as that was the usual stock colour scheme for Swiss biz-jets. This aircraft was written-off in an emergency landing overrun on 15th February 2006 as F-OVJR at Kiel-Holtenau in Germany. It was on a flight from Moscow to London when smoke and fire filled the cabin.
39. ITT Corporations Boeing 727-1H2 N320HG seen here parked at the old Pan Am maintenance area alongside 28L. This airframe was the very last series 100 manufactured, in 1971, and is still flying.
40. Saudi Arabian Airlines Boeing 737-200 HZ-AGR is seen here on its delivery flight. We had many early 737s come via Heathrow on delivery back in those days. Notice that it has a gravel-kit installed, with deflectors on the nose wheel and underneath the engine intakes. All photos I've seen of this particular aircraft show no signs of any gravel-kit, so it's a mystery why it was delivered in this configuration. This aircraft is currently withdrawn from use and is at Jeddah.
41. Another Saudi Arabian Airlines aircraft, this time L-1011-200 Tristar HZ-AHJ served its whole life with the Saudi carrier and was withdrawn from use in 1999 at Taif. After being put up for sale for no less than nine years, and with no buyers forthcoming, she was scrapped in 2008.
42. Aeroflot Il-62M CCCP-86621 is seen here ready to line-up on runway 28R. It later served with Domodedovo Airlines and was scrapped in 1997.
43. Gulfstream II belonging to the Ford Motor Company. Although FMC had a base at Stansted, it would arrive at Heathrow if Henry Ford was on board, as he disliked the drive from Essex and hardly ever visited Dagenham. N329K was later converted to a Gulfstream IISP and survived as N416CG until 2009.
45. The TAP Boeing 727 photo shows the typical scene at airports during these times. Smoke belching and noisy jets with no regard for the environment, these were indeed different times. We could stand at the perimeter fence and have fumes wafted over us by numerous aircraft. We turned out fine, I think.
This Boeing 727-82 (CS-TBP) was still with us until 2008, its last identity being VP-CKA in an executive configuration, when it was broken up at Southend Airport, although its interior was stripped out to be used in another aircraft. If you could find anyone that flew as a passenger with TAP, I'm sure they'd be very surprised to learn it was an exec jet in later life.
46. British Airways were phasing out its Vanguard Merchantmen freighters at this time, and ABC snapped them up to supplement its Argosy aircraft. The phasing out was known way ahead of time, and for this reason they kept their old BEA coloured tails until they left British Airways service.
Vanguard G-APEJ is seen on 28R on an unusually sunny day and survives at the Brooklands Museum as a front fuselage only.
47. There were only ten Dassault Mercures built and they were all operated by Air Inter. This particular aircraft, F-BTTH, is currently stored at Marseille-Provence.
48. Air Anglia was one of the many companies that merged to later form Air UK and is seen here on final approach to runway 28R. G-BAKL served with Air UK, BMA and Loganair and I personally flew this aircraft many times while operated by Air UK on flights to and from Guernsey. She was scrapped at Norwich in December 1996.
49. Trans European Airlines (TEA) were seldom seem, at Heathrow anyway. TEA was the very first airline to order from Airbus and was the operator of the only A300B1 that saw airline service. This particular Boeing 707-100, OO-TEC, was scrapped in Brussels in 1985.
50. Lufthansa DC-10-30 D-ADMO ended its days flying with Gemini Air Cargo as N600GC and is still stored at Roswell, NM. It was unusual in those days to see long-haul aircraft belonging to European airlines visiting the UK. They would visit very infrequently when they had to clear bad weather backlogs or there were, occasionally, special charters.
51. Iberia DC-10-30, EC-CBO, was eventually sold to Continental Airlines as N37078 and ended its days at Mojave, CA.
52. Caravelle F-BVPZ belonging to Aerotour would be an airline we would more likely see at Gatwick, so I'm not sure why this aircraft was at Heathrow. This airframe still exists and is preserved at Paris-Orly.
53. Probably one of the most interesting and surprising stories is that of Montana Austria Boeing 707-300C OE-IDA. The airline only existed for six years and faced fierce competition from Austrian Airlines, which was then government owned. It was finally granted the glamorous and rather strange Vienna-Baghdad-Bangkok route and later on added New York as a destination.
Near the end of the company's time it switched to mostly cargo operations due to the slow-down in the economy, retaining only the New York route with passengers. This aircraft was seized by the US Justice Department in Houston, TX, in 1981, after illegal weapons were discovered in cargo on board. This signalled the beginning of the end for the airline and soon after the Austrian government withdrew its operating licence, ending the airline for good. It is suggested that it was this airline that gave Nikki Lauda the idea to operate an airline and many of the crews were latter hired by Lauda.
This airframe then found its way to the USAF and was converted to a VIP configured C-137 flying as 85-6973 with the 89th MAW (Military Airlift Wing) from Andrews AFB, MD. It was later converted to an E-8C Joint Stars and re-serialled 00-2000. She is currently stored at AMARG and has certainly led a varied career.
54. Varig DC-10-30 PP-VMO is currently stored in Rio de Janeiro and was last operated by MTA Cargo as PR-MTC having been converted to a freighter.
55. Air France/TAT F-28-1000 F-GBBR was later operated by British Airways in the company's own colours in 1994, was later operated by Canadian Regional Airlines and was delivered to NASA in 2001 for crash testing. I have no idea if she still survives.
56. Gulfstream II XC-MEX was operated by Banxoco, otherwise known as Banco de Mexico. This was a rare machine and more than likely its only visit. It was later operated as N396CF and is currently stored at Kingman, AZ.
57. Vanguard G-APET is seen here on a damp, misty day starting her take-off run on 28R. This airframe was scrapped at Castle Donington in 1997.
58. Westwind 1124 N124TY is seen here parked at the old Bealine base, and this aircraft is still extant as N518WA.
59. Vanguard G-APEP was being prepared for onward sale at the old BEA engineering base and devoid of titles. This is the last complete survivor of this type and is kept in ground running condition at the Brooklands Museum. What a beauty, or going by the name of the aircraft, "Superb"!
60. LOT Polish Airlines Il-62 (note no 'M' designation as this still had the older engines) SP-LAD worked with Aeroflot later in its life as RA-86707 and is now preserved at Krasnovarsk-Yemelyanovo Airport at the technical school there, in Siberia.
So that concludes my look at 1979. I hope you enjoyed the stories.
(Info correct as of January 2012)