Queretaro Intercontinental Airport, Mexico (MMQT)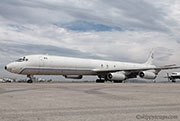 Querétaro Intercontinental Airport is a privately run airport around 200kms north west of Mexico City.
Most large airports in Mexico are government run, but this is one of the exceptions.
It's a relatively new airport, having been built in 2004, and it replaced the old Ng. Fernando Espinoza Gutiérrez Airport, which shared the same ICAO code of MMQT.
The airport has grown quickly under private management and is currently the fastest growing airport in Mexico, by passenger numbers.
Currently 17 scheduled destinations are served by TAR (the locally based airline), AeroMexico, Volaris, American Airlines and United Airlines.
The airport of course also supports healthy private and business aviation activities with FBO, maintenance and cargo facilities.
As with every airport in Mexico, there are abandoned aircraft present. Most of these aircraft end up in legal disputes and get tied up with paperwork which is hard to resolve. While many airports let these aircraft sink into grassy areas and become overgrown and untidy, Querétaro have kept all the aircraft on hard stands and, even though abandoned, they don't detract from general tidiness of the airport and don't look out of place.
The airport itself is an impressively clean and modern airport and also serves as an official diversion for many foreign airlines for Mexico City. Lufthansa, Air France and Iberia among them, and impressively the airport can handle Boeing 747 and Airbus 380 aircraft.
The future looks bright in Querétaro.
Subscribe to receive updates via: e-mail list | Facebook | Instragram | Twitter
[
photo/serial list
]
---
[
photos from behind the scenes
]