Willow-Run, Ypsilanti, MI, USA (KYIP) - July 2007
The company now dominating the scene at YIP is USA Jet which operates a fleet of Falcon 20 and DC-9 freighters alongside four DC-9 passenger jets. Part of the Active Aero Group they started by operating the corporate charter contract for Ford on the opposite side of the airport, before branching out to ad-hoc freight charter work.
The company has designed a web system called Charter Net that allows companies to place specific requirements for cargo companies to bid on. This started as a service purely for the automotive industry but is now used for many other industries transportation needs and has been renamed Premier Transportation Management (PTM). PTM is basically a bidding system and Active Aero Group makes its money via transaction fees, much like the credit card industry.
Jet USA has many aircraft stored for spares or return-to-service and one aircraft in particular caught my attention. DC-9-32F N207US is an ex-Evergreen airframe and has Jet Assisted Take-Off (JATO) pods in the wing roots for soft-field or short-field take-off. One can only imagine why Evergreen felt the need to fit these to a DC-9 although speculation would say it was due to contracts for the CIA. Personally I can't say for sure although I've certainly never even heard of a DC-9 with JATOs before. This airframe was one of two originally with Alitalia and has always been a freighter.
The other large operator on the airfield is Kalitta Air who operates 19 Boeing 747s which are maintained further north at Oscoda, Michigan. When I first visited in 1980 they operated long-nosed Beech 18s and a pair of Learjets under the name of Connie-Kalitta.
Conrad "Connie" Kalitta started the airline with a single Cessna 310 in 1967 and, around 1984, the airline was renamed American International Airways (AIA) which, at their peak, operated 60 aircraft including Beech 18, L1011 Tristar, DC-8, Boeing 747 and Learjet.
In 1990 / 91 AIA flew over 600 cargo flights supporting Operation Desert Shield and Desert Storm and in 1997 merged with Kitty Hawk, retaining the Kitty Hawk name. Connie resigned to concentrate on other businesses and Kitty Hawk subsequently ceased operations in April 2000.
Connie though decided to buy the operating certificate and its assets to bring the company out of bankruptcy and started Kalitta Air in November 2000 with two Boeing 747s. It now has 19 and in the region of 1000 employees.
They were the first and only company to fly after the grounding of all aircraft on 9/11 when they flew a Boeing 747 from California to the East coast carrying medical supplies for disaster workers and were also the first US company to fly into Libya after a period of some 25 years.
Doug Kalitta, who is Connie's nephew, runs Kalitta Charters II out of YIP operating one DC-9, four Boeing 727s, 15 Falcon 20s and 15 Learjets, offering executive charters, air ambulance and air cargo services.
The other main freight operator based here is Murray Air with their DC-8F aircraft.
Although many of these old aircraft are now scrapped some have found a way to continue working. The TCA DC-6 (N6586C) I was lucky enough to fly on is still earning her keep in Alaska for Everts Air Cargo.
The only remnants of Zantop still on the airfield are the handful of L-188 Electras, some with engines missing, awaiting a buyer or most likely the scrapman - one airframe still carries the Channel Express green cheat-line.
It's very sad to see this once major player in the frieght industry reduced to rotting and scrapped aircraft, but time marches on and new operators take over and the past slowy gets forgotton.
Subscribe to receive updates via: e-mail list | Facebook | Instragram | Twitter
---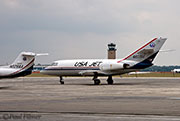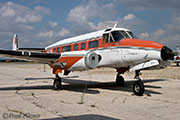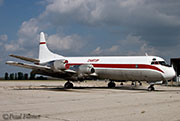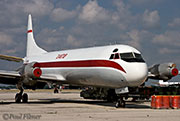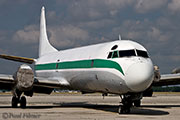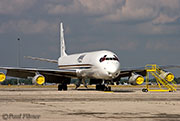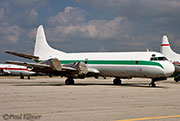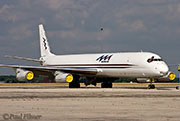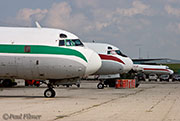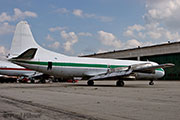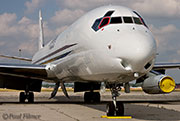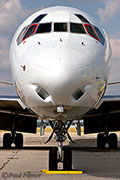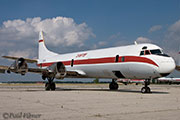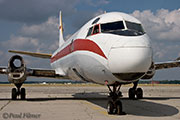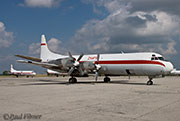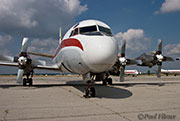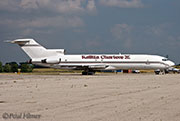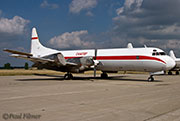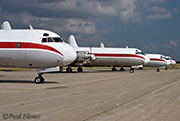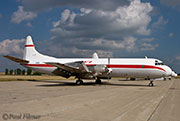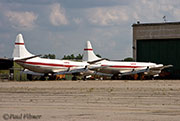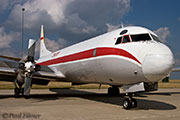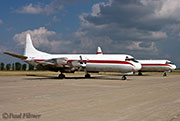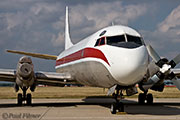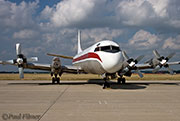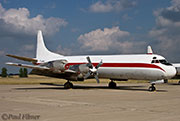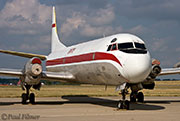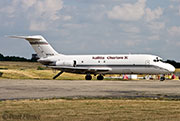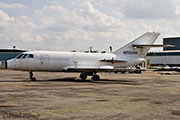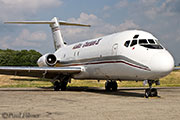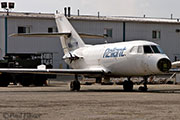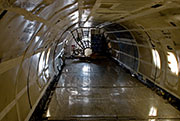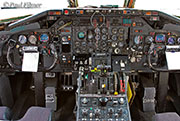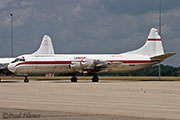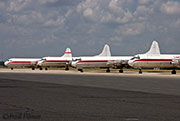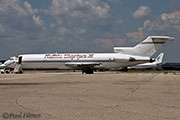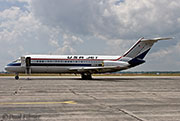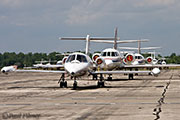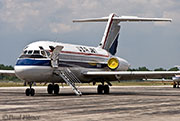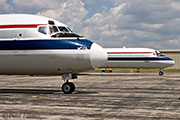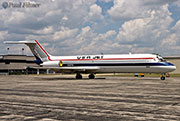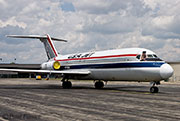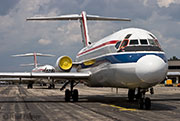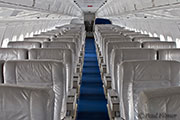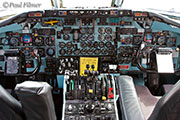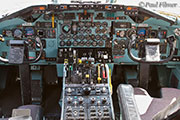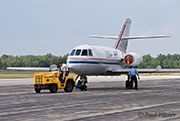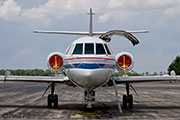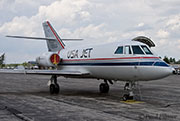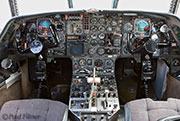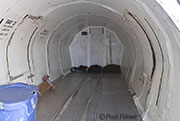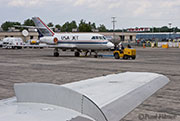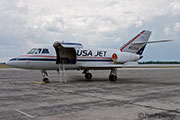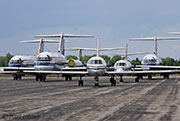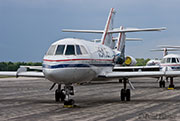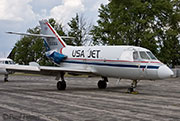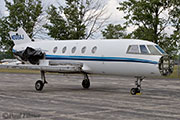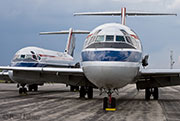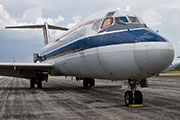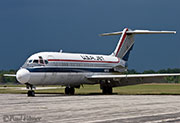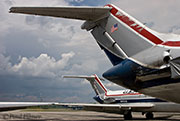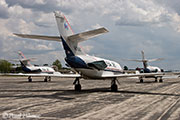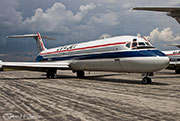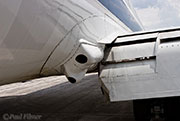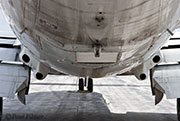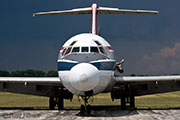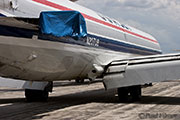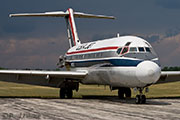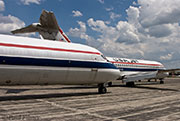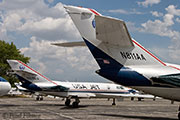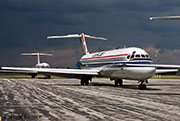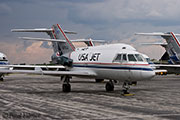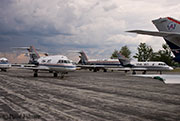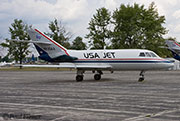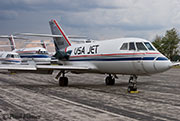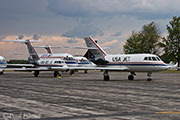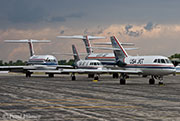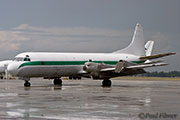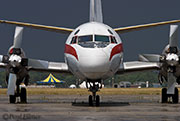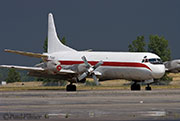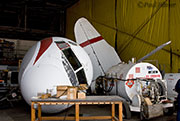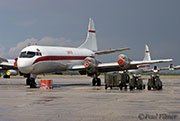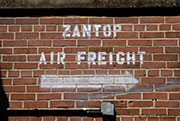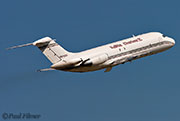 ---
---