Mountain Home AFB, ID, USA (KMUO) - German Air Force Mission Employment - 14-17 October 2008
The Mission Employment (ME) phase of the Tornado Weapons School based at Holloman AFB, NM is the last and the most complicated phase of the Fighter Weapons Instructor Course for the German Air Force (GAF). Four personnel (2 crews) had five mission scenarios left to execute for ME and Mountain Home AFB, ID was utilised as it has all the facilities available to provide the real world assets and support.
The German Air Force sent eight Tornados from Holloman (six for actual missions and two for instructors) and six F-4F Phantoms from Wittmund in Germany for ME support and to fly their own training missions.
An Airbus A310 transported 130 personnel from Germany plus a further 130 from Holloman to build up from scratch all the facilities that would be needed in the field when deployed - hangar facilities, admin, communications etc.
The main reason for using Mountain Home was to use Cowboy Control (Ground Control Intercept Controllers) which direct the areas over the nearby ranges at xSaylor Creek. These are better facilities than are available near to Holloman, hence the decision to deploy for this last phase.
Multiple assets were provided by the USAF and GAF to make the missions as real as possible and all participants benefit and gain valuable experience via the exercise.
The following assets were known to have taken part:
Red Air - F-15C 390FS from Mountain Home and F-4F JG71 GAF
Offensive Counter Air (OCA) - F-4F JG71 GAF
Combat Search and Rescue (CSAR) - A-10 190FS IA ANG
Air to Air Refueling - KC-135 93ARS and 163ARW
Suppression of Enemy Air Defenses (SEAD) - EA-6B VAQ-142
AWACS - EA-3B NAEWF (NATO)
Interdiction and Close Air Support - Tornado
(B-52s and B-1s also took part)
ME took place every second day with Continuation Training (CT) in between days to maximize the time spent on deployment, especially for the F-4s. T-38 Talons from Wichita Falls, TX were used on CT days as bogeys for the F-4s. Both Tornados and F-4s flew CT missions to get the most out of the aircraft, crew and facilities.
Talking to Col. Chris Badia, Wing Commander 71st Fighter Wing "Richthofen" (JG71) specifically about the Phantoms on deployment, he said this would most likely be the last deployment for the Phantom to the USA before the wing re-equips with the Eurofighter in 2011.
14 crews were sent with the 6 aircraft to support the Tornados and perform CT. One reason to come all the way from Germany was that large exercises in Europe are becoming increasingly rare, so this is good exposure for the crews.
Interestingly the Phantoms flew both Red and Blue air missions and JG71 is now the only wing that is able to deploy in Germany. Their sister wings JB73 and JB74 cannot yet deploy as they are busy transitioning to the Eurofighter, and since 1987 JG71 has been a purely air to air wing.
The trip from Germany to the USA was done in two legs via Bangor, ME - 7.5 hours on the first leg and 5.5 hours on the second to Mountain Home and involved 15 air-refuels from USAF KC-10 tankers.
There were very few challenges for the aircrew coming to the USA as all pilots and WSOs initially train in the USA at Holloman so in effect they were coming home.
JG71 itself is slated to maintain two squadrons with 44 jets in total, but currently have 56 aircraft to use in the pool as they have additional aircraft that were transferred from JB74 with flying hours left on the airframes. JG71 is in the enviable situation of having more jets and flying hours available than crews.
Col. Badia himself is a 2600 hour Phantom pilot and has been flying the jet now for 21 years, first flying the Phantom on 1st July 1987. When asked the best thing about the jet. "Reliable, robust and always bring you home" was his reply. "There is not an issue or problem that the maintenance crews cannot fix after 35 years in service with the GAF."
For each flying hour there are currently 70-80 maintenance hours and a 70-80% flyable rate - and with 20 spare aircraft maintenance becomes a real non-issue. Not surprisingly with the wealth of hours available, pilots at JG71 can expect to accrue 120-130 hours per year while in training, and 150-160 per year after that.
One would expect the pilots left to be the old hands, flying out their careers on the venerable Phantom, but Col. Badia disclosed that many of the experienced pilots were transferred to the Eurofighter wings leaving a good mix of old hands and young pilots gaining valuable time quickly - something they could not accomplish on the Eurofighter at this time.
Asked about his most rewarding experience with the Phantom, Col. Badia paused for a while and replied that it was flying with a WSO - "2 pairs of eyes, two pairs of ears and two brains make you appreciate having two people in the cockpit."
Currently 4 pilots are trained per year at FW71 in Germany since the Holloman Phantom program closed 3 years ago. WSOs are no longer trained are there are currently enough until the F-4 winds down and the Eurofighter takes its place.
Subscribe to receive updates via: e-mail list | Facebook | Instragram | Twitter
Showing page 1 of 2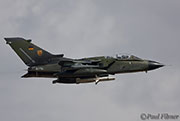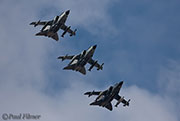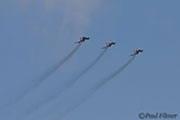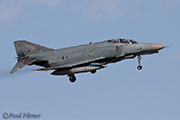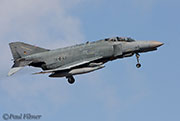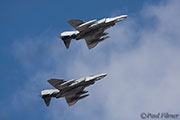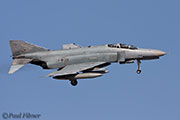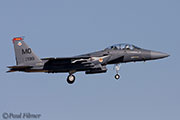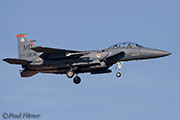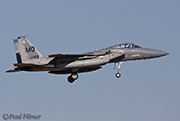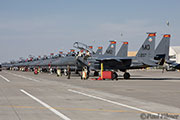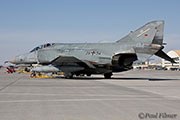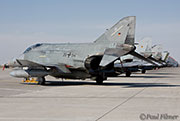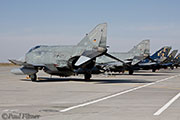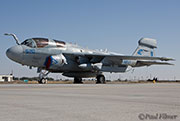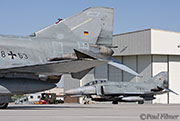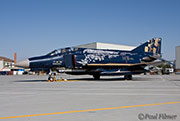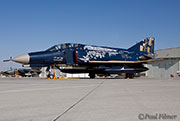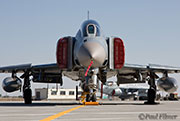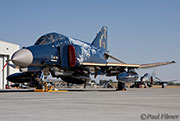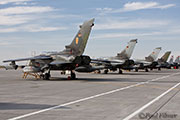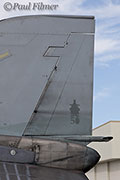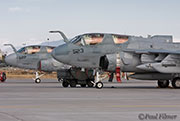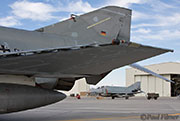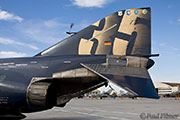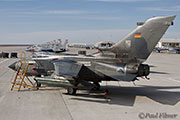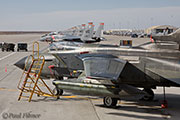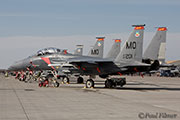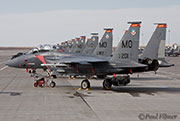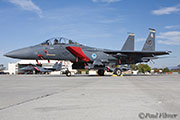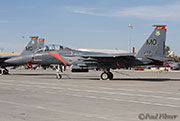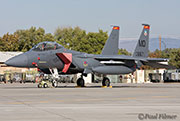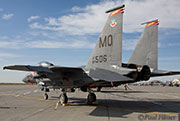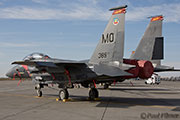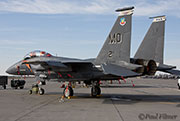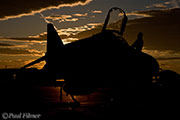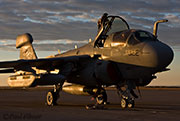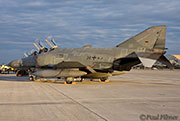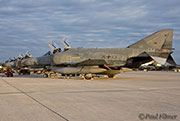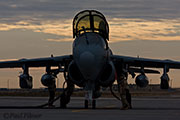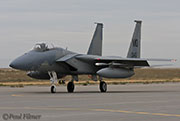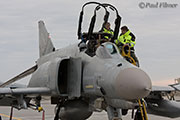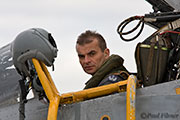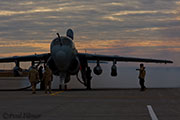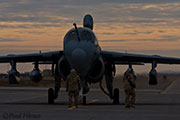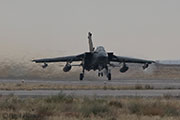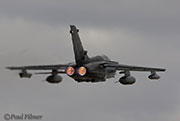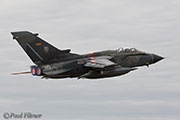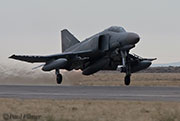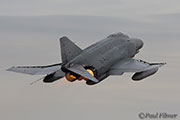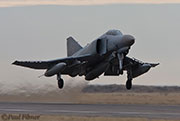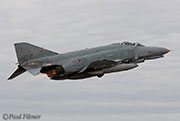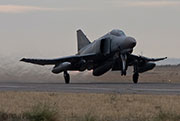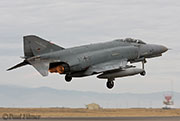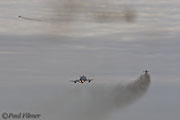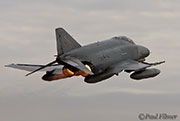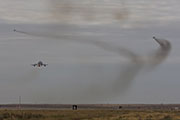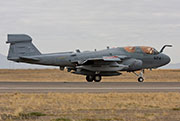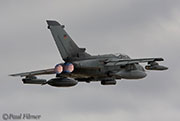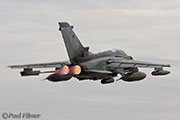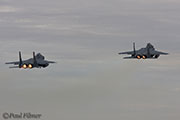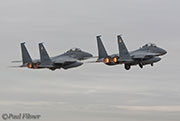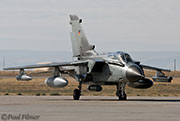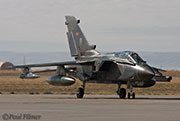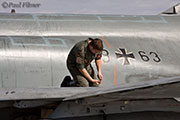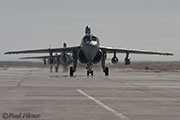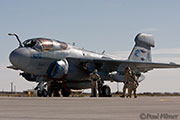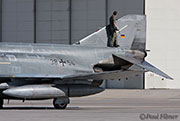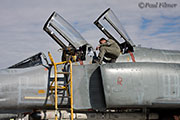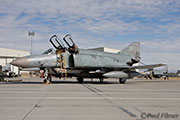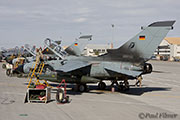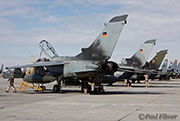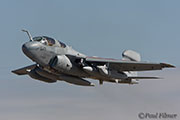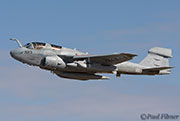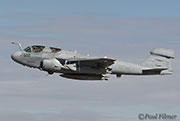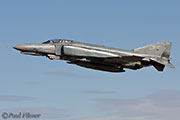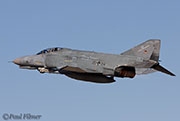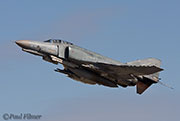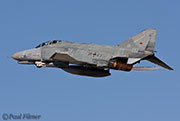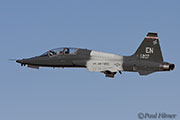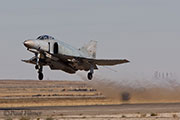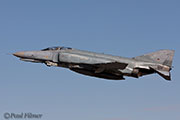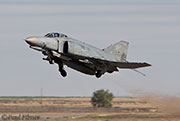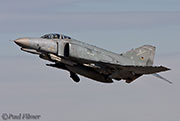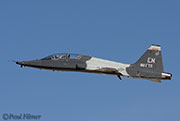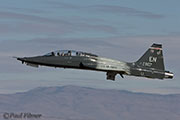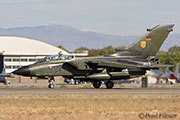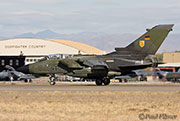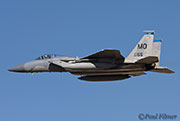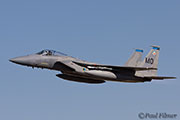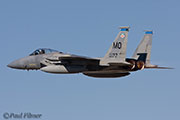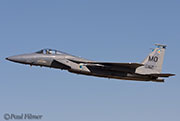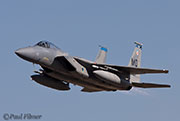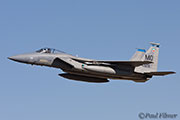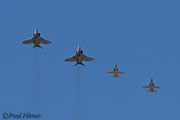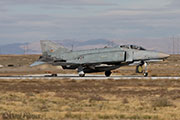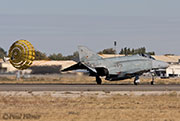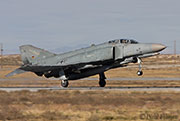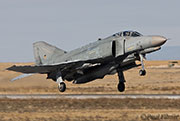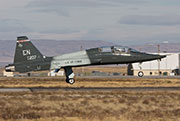 ---
---