Rocky Mountain Metro, CO, USA (KBJC) - National Center for Atmospheric Research, June 2007
The National Centre for Atmospheric Research (NCAR) was formed as a non-profit organisation in 1959 to serve the atmospheric amd related science and education community, operating alongside the University Corporation for Atmospheric Research (UCAR). Paul Filmer investigates.
NCAR are based in Boulder, Colorado while their aviation arm, known as the Research Aviation Facility (RAF) calls the nearby Rocky Mountain Metro (RMM) airport home. The unit is tasked with gathering data for scientists who study the Earth's climate, weather and the effects of pollution.
NCAR has operated a variety of aircraft over the years ranging from light twins to Sabreliners and even a Lockheed L-188C Electra (N308D). The ex-PSA Electra was the most recent aircraft to be retired and this carried the Electra Doppler Radar (ELDORA) which was developed in the in the early 1990s.
The ELDORA radar remains operational however and is held in storage at the RMM facility for use on two of three NP-3D Orions owned by the Naval Research Laboratory (VXS-1 Patuxent River, MD). One of the NP-3s will fly in specifically to have the equipment fitted as required and, when in use, ELDORA is able to calculate wind speed and direction up to 55 miles (90 km) from the aircraft.
The most recent aircraft to join the NCAR fleet is an extensively modified Gulfstream V. Delivered in March 2005 the aircraft, N677F, was built by Gulfstream but modified by Lockheed-Martin, with Gulfstream overseeing this work.
With a service ceiling of 51,000ft (15,500m) and a range of 7000 miles (11,300 km) the Gulfstream can fly further and higher than any other aircraft NCAR has operated. Fitted out with High-Performance Instrumented Airborne Platform for Environmental Research (HIAPER) sensors this allows research to be conducted at or near the tropopause.
Using HIAPER, scientists will probe the upper edges of hurricanes and thunderstorms in unprecedented detail while studying the chemical processes high above Earth that affect global temperatures. HIAPER sensors also gather data for environmental maps and play an important role in recalibrating satellite instruments.
The modifications carried out by Lockheed Martin to enable the Gulfstream to complete this work were extensive and include six under-wing hard points taking a maximum load of 15,000 lbs and fully compatible with USAF/NATO rack mount specifications. Six inlet aperture pads have been added to the upper fuselage along with three optical view ports, eight fuselage mounts and six forward fuselage nose pads.
Finally the aircraft has also been fitted with a special high altitude wing designed by Lockheed Martin, although the details surrounding this installation are so sensitive that only the company itself has access to the plans and specifications.
Perhaps surprisingly all these modifications have been certified with the FAA so the aircraft operates under a Standard Airworthiness Certificate instead of under the Experimental Category. It is currently operated under three Supplemental Type Certificates (STC) with support from Lockeed-Martin for structural modifications, Garret/SAC for the interior and satcom installation from Atlas Telecom.
Overall management of the Gulfstream V is the responsibility of the HIAPER Project Office within NCAR.
The only other aircraft currently in the NCAR fleet is an ex-US Navy EC-130Q Hercules. Registered as N130AR (ex-Bu162312) NCAR owns a spares sources that they utilise for the aircraft in Western International yard, Tucson, AZ; including another complete EC-130Q.
The Hercules has a ceiling of 26,000ft (8000m) and a range of ten hours or 3000 miles (5000 km) while carrying more equipment and scientists than the Gulfstream V and making use of various sensors installed in the outboard and inboard sensor ports.
Well-suited to flying at low altitudes (down to 100 feet) for the studying the planetary boundary layer the EC-130Q also carries radar and laser-based radar (LIDAR) alongside state parameter, radiometric, cloud physics and chemistry sensors.
With twice the heating / cooling capacity and better than twice the electrical power of a standard C-130H Hercules, the aircraft can accommodate up to 19 people including aircrew, instrumentation operators and scientific observers.
Both the Gulfstream V and the EC-130Q are configured to accept racks of up to 350 lbs of scientific equipment and each rack must be weighed and positioned so that the aircraft is configured within centre of gravity specifications for each specific mission. As each of these missions is unique, the scientists must produce data stating the individual component weights and dimensions, centre of gravity distance from the panel and the total moment. It's a complicated business but these must fall within the limits specified on a NCAR supplied graph to ensure that the aircraft is operated safely.
NCAR is an extraordinary organisation which conducts vital research in almost unique aircraft. Just don't expect to see them at home too often as, even though these airframes are based in the USA they conduct flights and missions across the globe and an NCAR departure from Colorado will often end with a landing somewhere overseas. All in a day's work for this fascinating outfit.
Subscribe to receive updates via: e-mail list | Facebook | Instragram | Twitter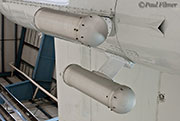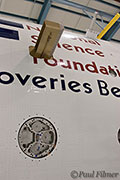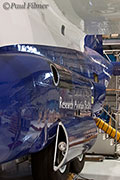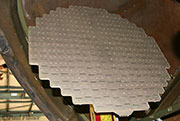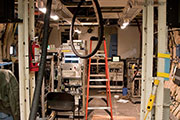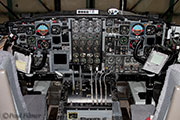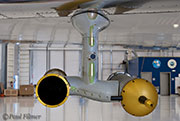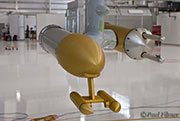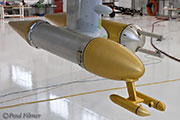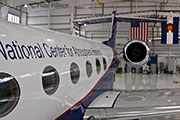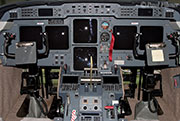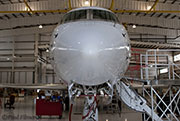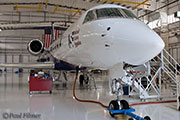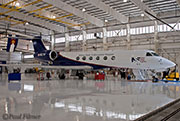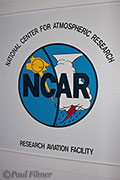 ---
---