Coolidge MAP, AZ, USA (P08) - 25 February 2007
Finding Coolidge MAP ended up being quite a challenge. My favourite planning tool, Google Earth, did not show it marked and to make matters worse had one of those really bad quality satellite images of the area. None of my maps showed the airfield so I just drove into town. Ah ha - a sign in the town pointed to the airfield, but my success was short lived as the road was closed not half a mile from the main drag. I followed the diversion signs until they ran out completely and then just guessed where to go, ending up at a dead end street in the middle of nowhere. Luckily an old local man in a pick-up truck stopped when I waved him down and told me I only a mile from my intended destination - success!
I can see one reason that International Air Response move to the field is good for them - there is no one around to complain about anything - this really is out in the middle of literally nowhere.
There was an immaculate white C-130 (N117TG) sitting on the ramp to greet me. It looked like it could have been straight out of the production line.
There were a further two C-130's here. One ex USAF machine, tail less and probably being used for spares. The second was one of Hawkins and Powers ex machines (N131HP) that I'd seen in Greybull that IAR had obviously bought in the auction.
The other gem on the field was the DC-7B (N4887C/T-33) resplendent in partial Delta colours and looking simply immaculate, and still looking like it would be active for the coming fire-bomber season.
The only other aircraft I saw was a forward fuselage of another DC-7C named "African Queen" with is N90804 - this is an ex BOAC Seven Seas aircraft G-AOIF - a lot of history sitting here!
Subscribe to receive updates via: e-mail list | Facebook | Instragram | Twitter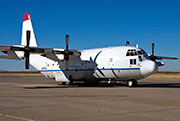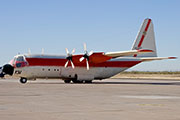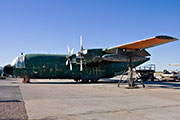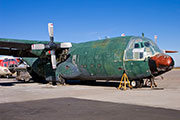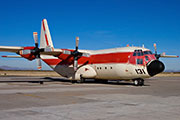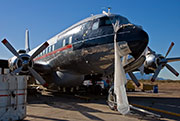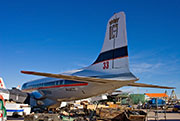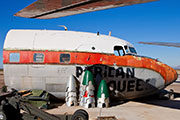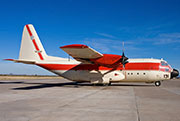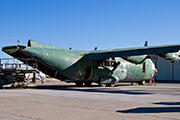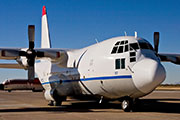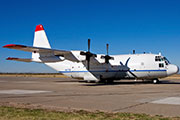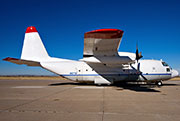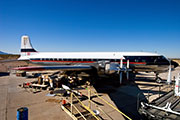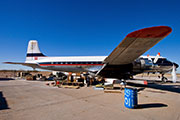 ---
---