home
23rd March 2010 - BT-67 and more from Siberia



I've just a couple of updates for you this time. First up I actually did some shooting at my local airfield, Centennial in Colorado. I just happened to logon to Flight Aware and saw that a BT-67 (Turbo DC-3) was inbound to land. By the time I got to the airfield they had already refueled and were preparing for departure.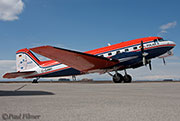 This BT-67 was flying up from the Antarctic on its was to Calgary and was having to fly only four hour legs due to the weight of cargo they were carrying; One of the more bulky items being a set of Twin Otter skis. The aircraft is owned by the Alfred Wegener Institute in Germany and is operated by Borek Air who specialise in Arctic and Antarctic operations.


It was certainly nice to see this nicely coloured and pristine aircraft in the sun!


The second update is the full set of photos from Tolmachevo-Novosibirsk in Siberia where we had a few frustrations and some unexpected company.


The full set is available by clicking on the photo above and this was also published on the Global Aviation Resource website.