home
27th February 2010 - A Gunship, ex-RAF Tucano's and more from Siberia



I just got back from a trip to the Philippines where I managed to arrange a tour around Manila International Airport which proved very interesting indeed.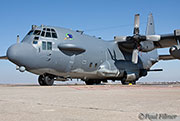 First up is a rather pleasing AC-130H from the 16th SOS who recently moved from Hurlburt Field, FL to Canon, NM. Unusually it still had a bunch of kill markings applied from its last tour in the sand-box with the added bonus of a hi-viz gunship badge. They were deployed to Buckley for a couple of weeks on an unspecified mission.



I took an interesting trip to Arizona to check out RS Warbirds at Deer Valley who have a bunch of ex-RAF Tucano T.1s. They were a very professional and interesting outfit and have in their hands some very desirable modern warbirds that's for sure.



I've pushed out two more sets of photos from my trip to Siberia. First up the very interesting Irkutsk with An-14/An-26s seemingly everywhere - in fact we arrived on a scheduled flight on an An-24B which was an aircraft I've always wanted to fly in.



The second set is from Oyok DOSAAF, which is a Russian Air Force basic training base. We were very warmly welcomed and I even got some stick time in an An-2!


This was also published on the Global Aviation Resource website.

I'm off for another trip for Red Flag 10-3 at Nellis, NV next week but, for now, that's all I have to share with you.

Apart from the e-mail list update and this blog there are other ways to keep abreast of my movements and updates.

If you are a Facebook user you can become a fan of skippyscage photography where I post more updates than on the mailing list or blog.

For even more musings you can also follow me on Twitter.

Thanks for listening!