home
31st October 2008 - Idaho (mostly)



I've got busy in the last few days and finally caught up on some stuff.


Last weekend I went to Red Rocks in Morrison, CO for the Red Bull Soapbox Race for thrills and (mostly) spills galore. There is a full description on the web page.



I was at a warehouse shoot about a month ago playing around with lighting in the dark. A couple of us went from the more crowded and better lit space to another warehouse next door to try to set up a moody darker shoot. This did take us longer to set-up than shoot, but the results came out rather well I think - so much so that the model is using one of my photos in his portfolio (#5).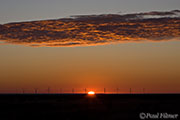 All the rest of the links are from my 5 days at Mountain Home Idaho a few weeks ago to cover the last ever German Air Force Phantom deployment to the USA - more of that another time as I was shooting for a Combat Aircraft magazine.

Just before I arrived near Mountain Home I took a look over my shoulder at how the sunrise looked. Seeing the neat line of wind turbines and the clouds made me stop to capture this one photo: (click on the Idaho slideshow) - I also rearranged all the sunset shots onto this page.



While I was on base I was offered a chance to do some skeet shooting.



And now for the aviation side of this trip.

Some preserved aircraft around WY and ID - Rock Springs, WY.



Off Airport, ID.



Twin Falls, ID.



Burley MAP, ID.



And some sweet crop-duster action.



Home of the duster.


That's all for now. paul

so I decided to update this along with the e-mail updates - to sign up for e-mails go here